"A delightful, engrossing read." -- Midwest Book Review.

Marian Sheffield longs to climb out of the pits, but before she can transform her career and romantic life, she must contend with the indiscretions of Belle, her business partner and best friend. Along the way, Marian learns the difference between a crush on her guy friend and the very real advances of her company's investor—and how to apply the relationship advice she promotes in her own bookstore.
My Review:
First I have to say that I just really love this book cover!!! What is contained within the cover is just as delightful! It is the honest truth of the "after" portion of the story about a love lost. Is is about moving on, finding ones way int eh new reality and empowering ones self under those new set of circumstances. With a character that is worth caring about and other characters that add some depth...you have the workings of a good read. Sometimes it is wonderful to see a healing story with a peaceful ending!!!
Bethany Morris always puts everyone else's needs first. That's why when she got pregnant in college, she shouldered the burden alone. She had the baby in secret and placed it for adoption. Sixteen years later, she's patiently waiting for her live-in boyfriend to propose and wondering if she's missed her one chance at motherhood.

Life gets complicated when she runs into the baby's father and realizes the chemistry's still there. At first, Bethany and Parker relive the good, old days, but then he reveals that he has the same disease that took his father's life. Does Bethany owe it to Parker to tell him that he has a child? Should she track down the daughter she's never known just to give her bad news?

Risking the comfortable life she's built for herself, Bethany embarks on a cross-country road trip to face her past and find the daughter she never forgot.
My Review:
I love when stories tackle the subject of past decisions coming up to have real time consequences! There is something compelling about seeing how the past does affect our future and to see how each character works out the kinks makes for a very interesting to read. There are interesting and engaging characters and a story that keeps along at a good pace. You find yourself rooting for them all to find the peace that they all, in their own right, deserve!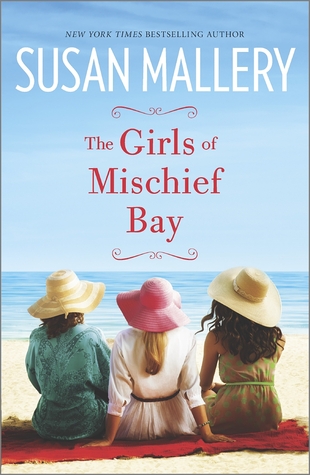 Nicole Lord wants to be a good wife, but there's a difference between being supportive and supporting her husband, who quit his job to write a screenplay she's never seen. He won't even help take care of their son, leaving Nicole to run the house and work full-time at her Mischief Bay Pilates studio. Can she say enough is enough without losing the man she loves?

Sacrificing a personal life for her career is how Shannon Rigg rose to become vice president in her firm, but she wonders now whether she made the right choice. An exciting new relationship with a great guy convinces her that it might not be too late—until he drops a bombshell that has her questioning whether she can have it all. And if she can, does she want it?

Although Pam Eiland has a beautiful house and a husband she adores, she feels… restless. She wonders who a stay-at-home mom becomes after the kids are grown. Finding sexy new ways to surprise her husband brings the heat and the humor back to their marriage, but when unexpected change turns her life upside down, she'll have to redefine herself. Again.

Through romance and heartbreak, laughter and tears, three very different women will discover that friends can become family, and that life is richer with sisters at your side.
My Review:
This is one of one of the first books I have read by Mallery. I was excited when the book arrived and it was the first in a series. I am not somebody that can start in the middle of a series and I often don't have time to start from the beginning of a series and get caught up (even if I really want to). So this was a treat I was so excited for!
I have to say that Mallery has a way to make you feel the characters. I was crying, laughing and was so moved by the women within the pages. There is a compelling and thought provoking story that Mallery writes so brilliantly that you cannot help but get emotionally invested in the characters. I cannot wait to see where this series will take us, but one thing I know is that I need to bring my tissues with me!!!!
An amazing talent makes her debut with this stylish psychological thriller—with the compelling intrigue of The Silent Wife and Turn of Mind and the white-knuckle pacing of Before I Go to Sleep —in which a woman suffering from bipolar disorder cannot remember if she murdered her friend during a breakdown.

Dana Catrell is horrified to learn she was the last person to see her neighbor Celia alive. Suffering from a devastating mania, a result of her bipolar disorder, Dana finds that there are troubling holes in her memory, including what happened on the afternoon of Celia's death. As evidence starts to point in her direction, Dana struggles to clear her name before her own demons win out.

Is murder on her mind - or is it all in her head?

The closer she comes to piecing together shards of her broken memory, the more Dana falls apart. Is there a murderer lurking inside her . . . or is there one out there in the shadows of reality, waiting to strike again? A story of marriage, murder and madness, The Pocket Wife explores the world through the foggy lens of a woman on the edge.
My Review:
Boom...WOW. This is an amazing book into the mind of
Dana Catrell. This is crazy engrossing, has major suspense and was written beautifully. You are going to go a on journey (or crazy awesome ride) through murder mixed with mental illness. This book was one you will tear through, will keep you up late at night and one you will be thinking about long after you finish. This would be a great book club pick!!!
The award-winning
New York Times
bestselling author of
After I'm Gone
,
The Most Dangerous Thing, I'd Know You Anywhere,
and
What the Dead Know
brings back private detective Tess Monaghan, introduced in the classic Baltimore Blues, in an absorbing mystery that plunges the new parent into a disturbing case involving murder and a manipulative mother.
On a searing August day, Melisandre Harris Dawes committed the unthinkable: she left her two-month-old daughter locked in a car while she sat nearby on the shores of the Patapsco River. Melisandre was found not guilty by reason of criminal insanity, although there was much skepticism about her mental state. Freed, she left the country, her husband and her two surviving children, determined to start over.
But now Melisandre has returned Baltimore to meet with her estranged teenage daughters and wants to film the reunion for a documentary. The problem is, she relinquished custody and her ex, now remarried, isn't sure he approves.
Now that's she's a mother herself--short on time, patience--Tess Monaghan wants nothing to do with a woman crazy enough to have killed her own child. But her mentor and close friend Tyner Gray, Melisandre's lawyer, has asked Tess and her new partner, retired Baltimore P.D. homicide detective Sandy Sanchez, to assess Melisandre's security needs.
As a former reporter and private investigator, Tess tries to understand why other people break the rules and the law. Yet the imperious Melisandre is something far different from anyone she's encountered. A decade ago, a judge ruled that Melisandre was beyond rational thought. But was she? Tess tries to ignore the discomfort she feels around the confident, manipulative Melisandre. But that gets tricky after Melisandre becomes a prime suspect in a murder.
Yet as her suspicions deepen, Tess realizes that just as she's been scrutinizing Melisandre, a judgmental stalker has been watching her every move as well. . . .
My Review:
I have not read any of the other books in this series, but I have to say I really enjoyed this novel. I did not feel like I was missing any information by picking up on book 12 of the series. It was a wild ride, that is for sure! The story is told from many points of view so I felt there was added depth to the story and felt that the sub plots added to the enjoyment of reading the novel. I just don't know where she comes up with this stuff...such entertainment. The book has something for everyone.
4.0 stars