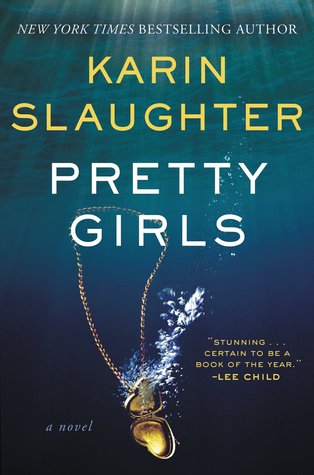 Genre: Women's fiction
About Pretty Girls: More than twenty years ago, Claire and Lydia's teenaged sister Julia vanished without a trace. The two women have not spoken since, and now their lives could not be more different. Claire is the glamorous trophy wife of an Atlanta millionaire. Lydia, a single mother, dates an ex-con and struggles to make ends meet. But neither has recovered from the horror and heartbreak of their shared loss—a devastating wound that's cruelly ripped open when Claire's husband is killed.
The disappearance of a teenage girl and the murder of a middle-aged man, almost a quarter-century apart: what could connect them? Forming a wary truce, the surviving sisters look to the past to find the truth, unearthing the secrets that destroyed their family all those years ago . . . and uncovering the possibility of redemption, and revenge, where they least expect it.
Powerful, poignant, and utterly gripping, packed with indelible characters and unforgettable twists, Pretty Girls is a masterful novel from one of the finest writers working today.
Karin Slaughter is the
New York Times
and #1 internationally bestselling author of fifteen thrillers, including UNSEEN, CRIMINAL, FALLEN, BROKEN, UNDONE, FRACTURED, BEYOND REACH, TRIPTYCH, FAITHLESS, COP TOWN, and the e-original short stories "Snatched" and "Busted."
Slaughter was born in a small southern Georgia community, and now resides in Atlanta. She is widely credited with first coining the term "investigoogling" in 2006.
COP TOWN is available in paperback NOW!
PRETTY GIRLS, arrived July 2, 2015 in the UK and September 29, 2015 in the US.
With a missing girl in the news, Claire Scott can't help but be reminded of her sister, who disappeared twenty years ago in a mystery that was never solved. But when Claire begins to learn the truth about her sister, nothing will ever be the same.
PRETTY GIRLS to your shelf! https://www.goodreads.com/book/show/2...
Facebook:
Facebook.com/AuthorKarinSlaughter
Website
:
http://www.karinslaughter.com/
I had received a physical copy of this book for review but there are times that I will buy the audio version instead and listen. This was one of those times. I think listening to this book made it much more real to me. This book is not for the faint of heart. It is dark, twisty, haunting, terrifying and riveting...I could not stop listening even though I was very uncomfortable!!!! It was s mix of emotions for sure!!! It will pull you into a dark and scary world and keep you reading or listening long into the night. I even dreamt about it. I never quite knew what to expect and felt stressed (in a good way) the whole time I was listening. It is quite a wild ride and a book I will not soon forget!!!