Hold Me by Susan Mallery
ABOUT THE BOOK: New York Times bestselling author Susan Mallery's classic blend of lighthearted humor and intense emotional conflict works its magic on two newcomers to the California town of Fool's Gold, which Library Journal calls "a setting so real and appealing readers will want to start scoping out real estate."
Destiny Mills believes passion has its place—like in the lyrics of the country songs that made her parents famous. After a childhood full of drama and heartache, she wants a life that's calm. Safe. Everything that Kipling Gilmore isn't. Her temporary assignment with the Fool's Gold search and rescue team puts her in delicious proximity to the former world-class skier every day. Part of her aches to let go for once…the rest is terrified what'll happen if she does.
Though an accident ended his career, Kipling still lives for thrills—and a hot fling with a gorgeous redhead like Destiny would be a welcome diversion. Yet beneath his new coworker's cool facade is a woman who needs more than he's ever given. With her, he's ready to take the risk. But love, like skiing, is all about trust—and before you soar, you have to be willing to fall.
MANDY'S REVIEW: Susan Mallery does it again, another great book from Fool's Gold. In this book we meet Destiny and Kipling who have to work together to improve the search and rescue unit in town. This is a great story about love, heartache, and forgiveness. You can never go wrong with a book from Susan Mallery. I think this is one of my favorites from Fool's Gold. The reader can not help but feel they are part of the story when reading this book. I highly recommend it. I give is 4 stars.
The Midnight Witch by Paula Brackston
ABOUT THE BOOK: "The dead are seldom silent. All that is required for them to be heard is that someone be willing to listen. I have been listening to the dead all my life."

Lilith is the daughter of the sixth Duke of Radnor. She is one of the most beautiful young women in London and engaged to the city's most eligible bachelor. She is also a witch.

When her father dies, her hapless brother Freddie takes the title. But it is Lilith, instructed in the art of necromancy, who inherits their father's role as Head Witch of the Lazarus Coven. And it is Lilith who must face the threat of the Sentinels, a powerful group of sorcerers intent on reclaiming the Elixir from the coven's guardianship for their own dark purposes. Lilith knows the Lazarus creed: secrecy and silence. To abandon either would put both the coven and all she holds dear in grave danger. She has spent her life honoring it, right down to her charming fiancé and fellow witch, Viscount Louis Harcourt.

Until the day she meets Bram, a talented artist who is neither a witch nor a member of her class. With him, she must not be secret and silent. Despite her loyalty to the coven and duty to her family, Lilith cannot keep her life as a witch hidden from the man she loves.

To tell him will risk everything.

Spanning the opulence of Edwardian London and the dark days of World War I, The Midnight Witch is the third novel from New York Timesbestselling author Paula Brackston.
Mandy's Review: Great book to read. I liked how the author developed the story line and kept the reader engaged. It was good book for those who like witches and these types of book. Pick it up today. I give it 3 stars.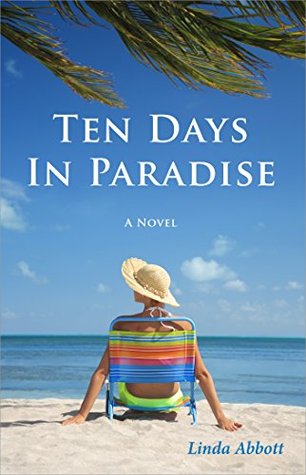 Ten Days in Paradise by Linda Abbott
ABOUT THE BOOK: Vacationing on beautiful Sanibel Island off Florida's Gulf Coast, Ellen Bennett has never felt so guilty—or more alive.
This wasn't the way things were supposed to turn out. The 45-year-old successful career woman, wife and mother traveled to the island paradise for solitude and a much-needed break from her family. But a chance encounter with a fellow traveler sparks a powerful attraction, forcing Ellen to make a decision that could change her life forever.
Against an idyllic backdrop of white sand beaches, azure waters and lush palms, Ellen struggles to subdue a firestorm of emotions. David, the father of three young children, confronts the fault lines in his own marriage that lead to a stunning revelation.
Their relationship unfolds as David's family gathers on Sanibel to celebrate their parents' 50th wedding anniversary. Tensions are running high. David's mother is worried about her husband's strange behavior and inexplicable memory lapses. His sisters, Julia, an over-achieving corporate exec, and Maggie, a hard-partying renegade who just announced she's gay and leaving her husband, haven't spoken for months.
On the island, a small congregation battles to save a beloved seaside chapel to make room for a lavish oceanfront mansion. Ellen takes up the cause when she meets 76-year-old Liz Taylor, a vivacious widow with a sparkling wit and a secret passion of her own.
A compelling and heartfelt novel, Ten Days in Paradise masterfully explores the inner landscapes of marriage and family relationships.
MANDY'S REVIEW: Linda Abbott is a brilliant writer. This is a wonderful story about life, love, family and all the ups and downs that come with it. Linda know hows to keep the reader entertained and coming back for more. I recommend this book for everyone. It was a great read. I give it 3 stars.
The Deputy's Redemption by Delores Fossen
ABOUT THE BOOK: The woman fleeing a cold-blooded killer is no stranger to Deputy Colt McKinnon. Fourteen years ago, Elise Nichols was the love of his life. Now she's back in Sweetwater Springs—to be the star witness in an upcoming murder trial that could tear the Texas lawman's family apart.
With her explosive revelations certain to rock the town, Elise didn't expect to be welcomed home with open arms. Certainly not by the cowboy with the badge who once meant everything to her. But after being run off the road and shot at, she has no choice but to trust him. Even more dangerous is the desire that's reigniting, making Elise yearn for something she may not live to see.
MANDY'S REVIEW: This book is a great addition to the Sweetwater Ranch series. This is the story of Colt and Elise with lots of twists, turns, passion and love. It was a great and quick read. I would recommend this book to everyone, especially cowboy lovers. I give it 4 stars.
The Protection Detail by Shirlee McCoy
ABOUT THE BOOK: LAWMAN ON A MISSION

After a prominent senator's son is murdered, Capitol K-9 Unit captain Gavin McCord wants answers. The senator was a mentor to Gavin, and he'll stop at nothing to bring the killer to justice. With his team of elite K-9 cops and his loyal dog, Glory, at his side, Gavin discovers that a child at Cassie Danvers's nearby foster home may have witnessed the murder. He's drawn to the determined and beautiful woman, but she doesn't want him interviewing her traumatized charges. Yet trusting Gavin is the only way to stay one step ahead of the deadly gunman when Cassie becomes a target.

Capitol K-9 Unit: These lawmen solve the toughest cases with the help of their brave canine partners.
MANDY'S REVIEW: This is a first in a new series and it is a great start. This book was a great read. I couldn't put it down; there were twists and turns that kept coming up. I loved this book - who can resist a man with a dog. I highly recommend this book. I give it 4 stars.
The Marine's Temptation by Jennifer Morey
ABOUT THE BOOK: Shocking discoveries rock the Adairs…and a determined librarian can't help falling for one of this dynasty's rugged heroes!

It's true that money can't buy happiness. Librarian Georgia Mason has seen one wealthy Adair ruin her stepmother's life and swears she won't get involved with his son Carson. So what if he's a hot former special ops soldier who showers her with extravagant gifts? But he is the sexiest man she's ever met and it's hard to hate him for searching for his long-lost stepbrother, or tracking down the traitor behind his botched mission. And when Georgia faces life-threatening danger, Carson protects her, igniting their scorching passion. Maybe love of money isn't the root of all evil. Maybe there's more to Carson to trust, respect…and love.
MANDY'S REVIEW: This a great, quick read. I really enjoyed the mystery, suspense, love and determination in this book. It was great to read about Carson stepping up to the plate and get things done. I highly recommend this book. I give it 4 stars.