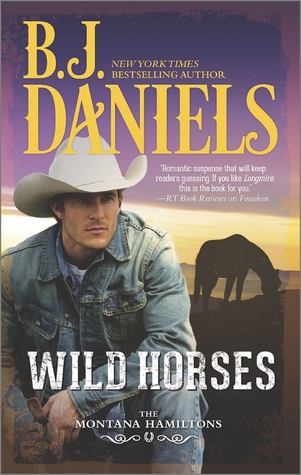 It took only one impusive moment on an empty two-lane highway to cost her everything.

A man's responsible for his own prosperity—especially if he's Cooper Burnett, the most determined cowboy in the West. No one knows what he sacrificed to claim a piece of Beartooth, Montana, for himself and his beautiful fiancée, Livie. No one knows what he's willing to do for love…until a stranger's twisted vendetta threatens the happy ending they should've had long ago.

One fateful mistake isn't the only secret Livie Hamilton is keeping from her fiancé. Victimized during a treacherous blizzard by a man she thought she could trust, she's pregnant…but unsure who the father is. With an unknown blackmailer threatening to expose her, she must confess to Cooper and trust he'll still protect her. But when the truth falls into place, she may lose the only man she's ever loved—or worse.
B.J. Daniels' life dream was to be a policewoman. After a career as an award-winning newspaper journalist, she wrote and sold 37 short stories before she finally wrote her first book. Since then she has won numerous awards including a career achievement award last year for romantic suspense.
She lives in Montana with her husband, Parker, two Springer Spaniels, Jem and Spot, and a temperamental tomcat named Jeff. When she isn't writing, she snowboards, camps, boats and plays tennis.
website
twitter username
genre
Wild Horses by B.J. Daniels

This is a great book. It has a little bit of mixed in - romance, suspense, and mystery. B.J. Daniels is a masterful storyteller that will keep the reader entertained until the very end. I always love her books. This one is no exception. You have to read this book. I give it 4 stars.