Overwhelmed by the news cycle and the state of affairs in our world? Pastor, blogger, and powerful voice in the Resistance, John Pavlovitz has the answer: this rousing and inspirational guide, drawing from lessons of our favorite superheroes, for how we can band together, live more heroically (and meaningfully), and save the world.
It's exhausting to give a damn these days, isn't it? Perhaps you're feeling anguished about what you see on the news or in your social media timeline, or by your personal circumstances, and are paralyzed waiting for political or religious leaders, or celebrities, to rescue us from it all.
But what if you didn't have to wait for someone else?
What if you could be the hero?
This book—a spirited call to action—shows you how.
In these pages, John offers a path away from the vitriol and toward com­passion, and a plan to transform our burdens into dreams and our outrage into activism. Drawing from lessons of beloved fictional superheroes, John shows us how to identify our origin story, build protective suits of armor, guard against our personal kryptonite, and vanquish our villains. He also identifies ten specific "superpowers" that we can enlist to make our lives and our world better. Along the way, he shares inspiring anecdotes and profiles about ordinary people who saw a gap in the world in empathy or kindness or gratitude and decided to fill it.
Hope and Other Superpowers
is an invitation to anyone hoping to be the kind of person the world so desperately needs—the kind who can save it. In other words: it's an invitation to you.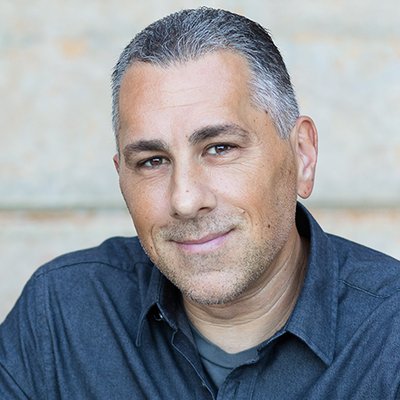 In the past two years, Pavlovitz's blog, Stuff That Needs To Be Said, has reached millions of people across the world with his outspoken distaste for a number of President Trump's policies and confrontation of the larger national vitriol about immigrants, guns, and many other hot button issues.
His popularity is not surprising, given that his core message is one that so many of us are yearning to hear (myself included): that hope is still possible, and that kindness, inclusion, and compassion are the way forward.
A former megachurch pastor, Pavlovitz now preaches a much less-traditional Christian message dedicated to radical hospitality, mutual respect, and diversity of doctrine that has earned him the nicknames "The Pastor of the Resistance" and "The Atheists' Favorite Pastor." He wants to help those of us who feel hopeless recognize ways in which we can change things for the better.
"Hope isn't found in a celebrity, religious leader, or politician," says Pavlovitz. "It's found in the mirror."
OUR INTERVIEW WITH JOHN PAVLOVITZ
by
Sara Bell
and
Emily Lewis who jointly interviewed John and wrote with article.
There are many things that I love about being a book blogger, but nothing beats being able to actually talk to a writer that you both admire and aspire to be more like. That kind of opportunity recently presented itself when I was lucky enough to conduct a phone interview with
pastor, writer, and activist
John Pavlovitz. Yes, you read that right - the one and only!
John's blog
Stuff That Needs To Be Said
has an average monthly readership of over a million people and, if
are not familiar with his work,
it is definitely something worth
checking out. His most recent book,
Hope and Other Superpowers: A Life-Affirming, Love-Defending, Butt-Kicking, World-Saving Manifesto
was just released in November of 2018.
I have ready many of John's blog posts because my sister Sara shares them frequently as he always seems to be able to capture what we are feeling, whether it is his reflections on what life is like after losing a parent or his insights on any number of other topics related to the state of affairs in the world. Through all of his writings, John's consistent message is focused on the importance of being a compassionate, ethical, and decent person; he is not afraid to call it like he sees it when people are demonstrating anything but kindness, empathy, and integrity. Knowing that my sister is a huge fan, I asked her if she wanted to interview John with me. She was obviously super excited (and a bit of a fangirl about it). The three of us ended up having an awesome chat about his new book and a few other topics that are near and dear to our hearts.
Hope and Other Superpowers
is touted as a "spirited call to action" that will inspire people to
transform their burdens into dreams and their outrage into activism. In short, the take-home message from the book is that w
e can all be a force for good if we choose to. John shares stories of several "real-life superheroes" and how they have come through times of adversity to be more than they ever thought possible. The experiences that these individuals have endured are both heartbreaking and inspiring; they have all learned important life lessons on how to take negative events and use them as the catalyst to find new purpose and impact the world in an incredibly positive way. John also adds in anecdotes and personal stories to highlight his own reflections in an emotional, engaging, and often humorous way that makes this book one of both laughter and tears.
Thinking about everything we read in
Hope and Other Superpowers
and on John's blog, the first question Sara and I asked him was about finding balance. As John expresses in his book, giving a damn
is
exhausting and it can certainly become very overwhelming at times. So, we wanted to hear his advice on how people can find the sweet spot between caring deeply and passionately about world events but not getting so pulled into all of the negativity around us that it eats us up. John shared some thoughts on how to best manage this, based on approaches that work for him.
John suggests that it may be beneficial to break things down into an almost hourly process of taking information in and then purposely stepping away. It is valuable to be engaged in the world around you so you are well informed and able to advocate when needed but it is also important to be intentional about withdrawing at regular intervals to renew yourself by simply enjoying some silence, spending time in nature, or connecting with friends and family. Although we may want to keep on top of all of the day's events and dedicate ourselves to defending the principles we hold dear, we still have to live our lives and we won't be good to anyone if we are totally drained.
If you are actively engaged in advocacy or community improvement work, another possibility is to shift energy between different aspects of the causes you care about. For a period of time, perhaps you can focus on legislation or policy reform and then switch to more directly supporting the people who are impacted. Varying your activities can assure you continue to feel like you're making a difference without getting burned out on one thing.
John's final thought was to keep coming back to the question "what is my why?". It can feel insurmountable when you think about all of the opportunities there are to get involved, share your voice, and make an impact. Try to start with one issue you are super passionate about and just focus on that. You don't need to have it all figured out and you don't need to tackle everything. Just start somewhere.
Another topic Sara and I wanted to talk with John about was the loss of his father. John has shared very openly through his blog and in his book how losing his dad has impacted his life. My siblings and I also lost our father suddenly 5 years ago so the immense vulnerability and raw emotion that John has expressed is something that really hit home with us. Sara has shared with me that she has read several of John's posts multiple times, as his writing brings her comfort by capturing the feelings of grief and the aftermath of the loss in a very heartfelt way. We wanted to know how this experience has changed John for the better and allowed him to grow, as we continue to navigate a similar path day by day.
John said, as he began to write only a few days after his Dad passed away, he realized that what he was going through was not a novel thing. People are enduring all kinds of losses and hardships every day. However, only he was experiencing that exact loss in his own way. No matter what is happening, we all have unique insights​ and as he started sharing and putting his words and feelings out into the world, others also began to share. His learning was that we can ultimately find commonality when we embrace being our authentic self. Sara and I can attest that this is true, as we feel a strong sense of gratitude and kinship with John for so often expressing (much more eloquently than we can) what we and many others are feeling.
When asked what prompted John to write
Hope and Other Superpowers
, he said that he really just wanted to write something simple and somewhat elemental about how easy it really is to be a good human. John stated, "Cruelty is trending - it is easy to see all the vitriol that is perpetuated because it grabs people's attention. However, there are also beautiful things happening in the world and I wanted to give a voice to that." Like so many of us, John believes that the world is full of good hearted people and it is easy to forget that when we are inundated by negativity all the time. At the most basic level, John wanted to encourage people who are exhausted by caring so much and give them hope.
​In the time we were lucky enough to talk with John, he was warm, humble, down-to-earth, and insightful. Just as in his writing, John's spoken words were touching and profound. After we wrapped up, Sara said to me "Over the last few years, John's messages have consistently been just what I needed to hear at just the right time. He is able to clearly articulate so many of the exact thoughts and feelings I have in a way that I never could. He does it on his blog, he did it in this book, and now he did it again on our phone call."
Hope and Other Superpowers
accomplished everything John set out to do and it's definitely a must read for anyone who is searching for beautiful, inspiring stories of perseverance, resilience, and triumph over negativity. This interview was a really incredible experience for both Sara and me. I'm confident John's writing will continue to be a source of hope for us and millions of others, especially now when it is needed the most.