Bestselling co-authors Liz Fenton and Lisa Steinke are a dynamic and influential literary duo with legions of devoted and passionate readers. Their three wildly popular novels (Your Perfect Life, The Status of All Things,and The Year We Turned Forty) skillfully blend women's fiction with magical realism to explore questions we all have about life, relationships, and happiness. Consistently named the hottest, must-read books of their season, their novels have been compared to works by Jennifer Weiner, Emily Giffin, and Jennifer Lancaster and have been praised by InStyle, Cosmopolitan, Woman's World, Kirkus Reviews, Library Journal, among others.
Now, with their highly anticipated suspense debut
THE GOOD WIDOW
(Lake Union Publishing; on-sale
June 1, 2017
), they deliver a twisty page-turner about marriage, betrayal, and trust as a woman discovers her husband of eight years died tragically on a trip he shouldn't have been on with a woman he should never have been with.
Jacqueline "Jacks" Morales, is an elementary school teacher whose marriage was far from perfect, but even in its ups and downs it was predictable, familiar, and happy enough. So when two police officers show up at her door to deliver the news that her husband, who should have been on a business trip to Kansas, was killed in a car accident in Hawaii, and he wasn't alone—she's blindsided and devastated.
For Jacks, laying her husband to rest is hard. Grieving the life she thought she had and reconciling that with the truth of what their relationship was, is almost too much to bear. Did she ever truly know her husband? Did he ever love her? And worse, did he love this other woman more? As she struggles with these questions, others arise about the mystery woman her husband spent his final moments with. And when her grieving fiancé, Nick, shows up at Jacks' house suggesting they go in search of the truth together, Jacks is too curious and desperate for answers to see how potentially reckless and damaging this journey could be. As they retrace the doomed lovers' last days in paradise, following the twisting path of that fateful road, Jacks is learning that nothing is ever as it seems. Not her marriage. Not her husband. And most certainly not his death…
Chilling, heartrending, and at times darkly funny, THE GOOD WIDOW is Fenton and Steinke at their best.
#FirstLine ~
His fingers slithered like a snake to find hers.
Holy man! What a wild ride! If you think you have this book figured out while you are reading you will be in for a BIG surprise when it twists and turns throughout. I literally sat down and read this book in a few hours because I could not put it down. I loved that this is a new side to the writing talent of Liz and Lisa. They really are a dynamic duo and The Good Widow will keep you on your toes and have you thinking about your own life and your relationships. You need to read this book this summer because it is one of those books that you cannot help but escape into.
ABOUT LIZ FENTON & LISA STEINKE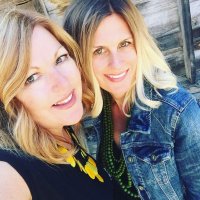 Liz Fenton & Lisa Steinke
are the authors of the forthcoming suspense novel,
The Good Widow
, to be published by Lake Union on June 1, 2017. You can pre-order it
here
! Liz and Lisa have been
best friends
for over 25 years. They created this website to celebrate books women (and men!) love and to have a place to talk shit about
reality TV stars
. They have also published three novels with Simon & Schuster/Atria Books.
Your Perfect Life
is a hilarious and heartwarming story of two childhood best friends who switch bodies at their twenty-year high school reunion.
The Status of All Things
, is a cautionary tale of a woman who realizes she can change the course of her entire life by what she writes in her Facebook status. And
The Year We Turned Forty
follows three women who get the chance to relive the year they turned forty, a year they each made decisions that altered the course of their lives.
But a lot happened before their first publishing deal…