Darn you Colleen Hoover! Every time you write a book you break my heart and right at the end you find a way to put it back together. While reading IT ENDS WITH US, I was moved to tears several times. I seldom have that happen. I could tell how personal this story was for you. I could feel you pouring your heart onto those pages. There was such a rawness and authenticity that made this read so compelling. I think I felt every emotion that there is. This book kept me up late reading, as I devoured it in less than 24 hours. I had dreams about the characters more than once after I finished reading this book. This book has so many important themes and I love how Hoover approached them, so humanely and genuinely. In life there are no real black and white decisions...there is always some element of gray mixed in. Hoover captured the gray areas in life so beautifully. It is amazing how love and hate can linger in the same heart and flow from one to the other within a matter of seconds. The line in the book where you understand where the title came from was nothing short of genius...I read and reread that paragraph more than once. This book is wonderful from cover to cover. And if Hoover reads this review her

self, I would LOVE a sequel!!! Another 5 star read. I am now officially a Colleen Hoover groupie!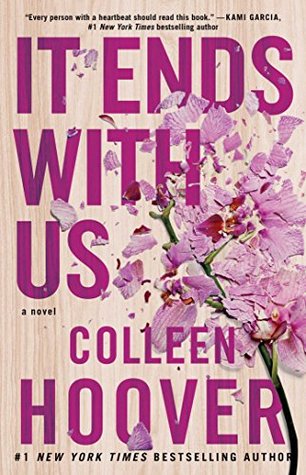 IT ENDS WITH US
BY COLLEEN HOOVER
"Colleen Hoover reminds readers that love is a fragile thing, built from courage, hope, and tears. Every person with a heartbeat should read this book."
– Kami Garcia, #1 New York Times bestselling author
Lily hasn't always had it easy, but that's never stopped her from working hard for the life she wants. She's come a long way from the small town in Maine where she grew up—she graduated from college, moved to Boston, and started her own business. So when she feels a spark with a gorgeous neurosurgeon named Ryle Kincaid, everything in Lily's life suddenly seems almost too good to be true.
Ryle is assertive, stubborn, maybe even a little arrogant. He's also sensitive, brilliant, and has a total soft spot for Lily. And the way he looks in scrubs certainly doesn't hurt. Lily can't get him out of her head. But Ryle's complete aversion to relationships is disturbing. Even as Lily finds herself becoming the exception to his "no dating" rule, she can't help but wonder what made him that way in the first place.
As questions about her new relationship overwhelm her, so do thoughts of Atlas Corrigan—her first love and a link to the past she left behind. He was her kindred spirit, her protector. When Atlas suddenly reappears, everything Lily has built with Ryle is threatened.
With this bold and deeply personal novel, Colleen Hoover delivers a heart-wrenching story that breaks exciting new ground for her as a writer. Combining a captivating romance with a cast of all-too-human characters, It Ends With Us is an unforgettable tale of love that comes at the ultimate price.
ABOUT THE AUTHOR:
Colleen Hoover is the #1 New York Times bestselling author of Slammed, This Girl, Point of Retreat, Hopeless, Losing Hope,Finding Cinderella, Maybe Someday, Ugly Love, Maybe Not, and Confess. She lives in Texas with her husband and their three boys. Please visit ColleenHoover.com.
(Photo credit: Jen Sterling)
IT ENDS WITH US
BY COLLEEN HOOVER
Atria Books Paperback | 384 pages | ISBN: 9781501110368 | August 2, 2016 | $16.00
eBook: 384 pages | ISBN: 9781501110375 | $7.99
Now for the fun….the #ItEndsWithUs Contest!
Enter the Rafflecopter to win a signed copy of IT ENDS WITH US and a limited edition Everything's Better in Boston magnet (trust us, you'll get it after you read the book)! (3 prize bundles in total) Contest is open until August 26th.