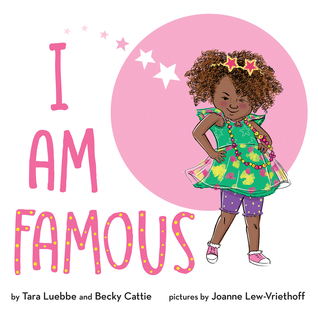 Tara Luebbe and Becky Cattie are sisters. Tara previously owned a kids' toy and book store in Atlanta. She lives in South Carolina with her husband and three sons. Becky was a casting producer for reality TV shows, including NBC's America's Got Talent, ABC's Extreme Makeover, and E!'s The Simple Life in Los Angeles. She now lives in
Chicago.To
learn more about Tara and Becky, and to download an activity kit, visit
http://beckytarabooks.com/
or on Twitter: @t_luebbe and @b_cattie. Instagram: @taraluebbe.
Joanne Lew-Vriethoff is the acclaimed illustrator of A Day with Parkinson's by A. Hultquist. She lives in Amsterdam with her family.
"Move over, Eloise, Fancy Nancy, and Olivia.Tongue-in-cheek and humorous, this commentary that's spot-on for kids growing up in a digital age, will entertain children while giving their parents some apt food for thought." —Kirkus Reviews
I Am Famous by Becky Cattie
My rating: 5 of 5 stars
I adored this book. It was such a delight. Kiely is a dynamic girl destined to become a big star. She brought a smile to my face from cover to cover. Every little girl is going to be able to relate to Kiely and her desire to be the center of attention and showing off all her skills (which she has lots). It is a story I know all the kids in my class will adore and will open the eyes of their parents.
View all my reviews
Giveaway!
One lucky winner will receive a copy of I AM FAMOUS (U.S. addresses), courtesy of Albert Whitman & Company.
Leave a comment about why you want to win!
BUY THE BOOK: