When food goes missing on Ed's farm, Detectives Wilcox and Griswold do what it takes to track down the thieves. In this case, Miss Rabbit's carrot cake has disappeared. Has it been stolen? Or eaten? Or both? Who dunnit?
"Readers ready for chapter books will solve the crime and then be surprised by the twist at the end. Here's hoping for more hard-boiled detecting from Wilcox and Griswold!"
-- Kirkus Reviews, Starred Review
My Review:
My boys and I loved this cute and funny whodunit. It was a fun introduction to the mystery genre for my first grader and refresher for my second grader. We had so much fun trying to figure out who took the carrot cake. I love the Wilcox, such a fun character....with all his police banter and serious looks. My husband is in law enforcement so I found this to be great fun, as did the kids. I highly recommend this great mystery with awesome illustrations! 5 stars
Fuzzwippers Make Great Friends encourages children to help each other in good times and when things don't go quite the way they planned. Fuzzevello & Spencer plan to go exploring during a family camping trip, but when Spencer hurts his ankle, they learn that staying flexible and staying together can make everyone feel better fast.
My Review:
A great story about teaching kids how to deal with situations that do not turn out how they were planned. That disappointments are also learning opportunities. There are also lots of conversations points on how to be safe and to make good decisions. 4 stars
Winner of the Mom's Choice Award for excellence in family friendly media, Fuzzwippers Learn About Family reminds children they are always surrounded by the love of relatives, good friends and neighbors who are there to celebrate and support them every step of the way.
My Review:
A heartwarming book about the many different ways we can define family! A story that any child can relate to and one that is relevant to our changing family systems. 4.5 stars
From the Fuzzwipper series, Fuzzardan is bullied by Festus because of his blue fur until his human friend helps him find the true source of Festus' problem and all end up being friends.
My Review:
A sweet story about learning to gain self acceptance and to never be afraid to be who you really are! 5 stars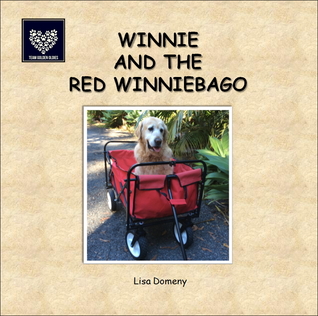 When Winnie is injured can he find a way to keep sharing hugs and having adventures?
Winnie the senior rescue dog's mission to spread kindness and love is challenged when he can no longer walk. Determined to continue his adventures, Winnie's family and friends find a way for him to keep spreading love and happiness to the world!
In sharing her love of old rescue dogs and their adventures, Lisa Domeny has provided a beautiful, positive and uplifting story for children to learn about overcoming life's challenges, friendship and spreading kindness and love to make the world a better place.
This inspiring story is told through the eyes of Winnie, and although aimed at 3-5 year old's, is enjoyable to read at any age. Winnie and the Red Winniebago demonstrates that a caring community and society doesn't discard the elderly or disabled.
My Review:
I love this book for so many reasons. I love dogs. I really love rescue dogs. I love that this book focuses on all the things one can do and not the things that cannot be done... due to age or ailment! I love the adventures Winnie went on and how Winnie overcame an injury. This is an adorable book that any dog lover will sure to love! 4 stars