At nineteen years old, Nicole C. Kear's biggest concern is choosing a major--until she walks into a doctor's office in midtown Manhattan and gets a life-changing diagnosis. She is going blind, courtesy of an eye disease called retinitis pigmentosa, and has only a decade or so before Lights Out. Instead of making preparations as the doctor suggests, Kear decides to carpe diem and make the most of the vision she has left. She joins circus school, tears through boyfriends, travels the world, and through all these hi-jinks, she keeps her vision loss a secret.
When Kear becomes a mother, just a few years shy of her vision's expiration date, she amends her carpe diem strategy, giving up recklessness in order to relish every moment with her kids. Her secret, though, is harder to surrender - and as her vision deteriorates, harder to keep hidden. As her world grows blurred, one thing becomes clear: no matter how hard she fights, she won't win the battle against blindness. But if she comes clean with her secret, and comes to terms with the loss, she can still win her happy ending.
Told with humor and irreverence, Now I See You is an uplifting story about refusing to cower at life's curveballs, about the power of love to triumph over fear. But, at its core, it's a story about acceptance: facing the truths that just won't go away, and facing yourself, broken parts and all.
My Review:
Heartbreaking, honest and inspiring...this story will leave you with the sense of taking on the world with a new found determination and appreciation. Everyone has a battle they are fighting and Kear, through sharing her story, can give everyone the strength to face it and find the power within. 4 stars
Don't Try to Find Me
When a 14-year-old runs away, her parents turn to social media to find her-launching a public campaign that will expose their darkest secrets and change their family forever, in this suspenseful and gripping debut for fans of Reconstructing Amelia and Gone Girl
Don't try to find me. Though the message on the kitchen white board is written in Marley's hand, her mother Rachel knows there has to be some other explanation. Marley would never run away.
As the days pass and it sinks in that the impossible has occurred, Rachel and her husband Paul are informed that the police have "limited resources." If they want their 14-year-old daughter back, they will have to find her themselves. Desperation becomes determination when Paul turns to Facebook and Twitter, and launches FindMarley.com.
But Marley isn't the only one with secrets.
With public exposure comes scrutiny, and when Rachel blows a television interview, the dirty speculation begins. Now, the blogosphere is convinced Rachel is hiding something. It's not what they think; Rachel would never hurt Marley. Not intentionally, anyway. But when it's discovered that she's lied, even to the police, the devoted mother becomes a suspect in Marley's disappearance.
Is Marley out there somewhere, watching it all happen, or is the truth something far worse?
My Review:
There is so much emotion in this novel and the harshness of the reality of the times we live in makes an original and engaging read. The story is told via different perspectives, making you drawn into each character. This story is about how broken people sometimes need to do things they may not normally do to make it through their days. 4 stars
The Ocean at the End of the Lane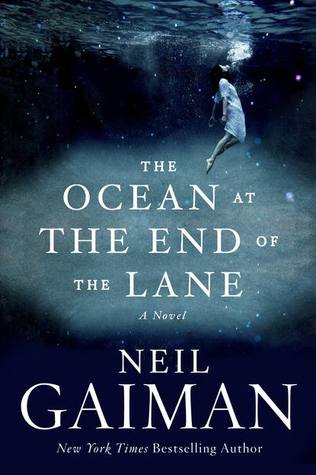 Sussex, England. A middle-aged man returns to his childhood home to attend a funeral. Although the house he lived in is long gone, he is drawn to the farm at the end of the road, where, when he was seven, he encountered a most remarkable girl, Lettie Hempstock, and her mother and grandmother. He hasn't thought of Lettie in decades, and yet as he sits by the pond (a pond that she'd claimed was an ocean) behind the ramshackle old farmhouse, the unremembered past comes flooding back. And it is a past too strange, too frightening, too dangerous to have happened to anyone, let alone a small boy.
Forty years earlier, a man committed suicide in a stolen car at this farm at the end of the road. Like a fuse on a firework, his death lit a touchpaper and resonated in unimaginable ways. The darkness was unleashed, something scary and thoroughly incomprehensible to a little boy. And Lettie—magical, comforting, wise beyond her years—promised to protect him, no matter what.
A groundbreaking work from a master,
The Ocean at the End of the Lane
is told with a rare understanding of all that makes us human, and shows the power of stories to reveal and shelter us from the darkness inside and out. It is a stirring, terrifying, and elegiac fable as delicate as a butterfly's wing and as menacing as a knife in the dark.
My Review:
Sometimes being taken away by stories that make you ponder, and imagine are such a wondrous experience...reading this novel was one of those times! It is eerie, original and one story that will stick with me for a while. A great book club pick! 4 stars