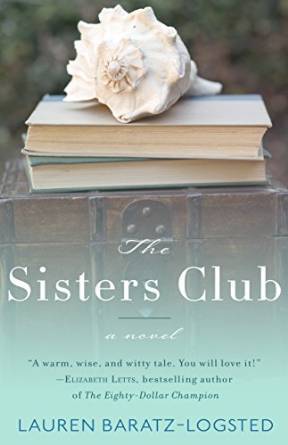 Four women have little in common other than where they live and the joyous complications of having sisters. Cindy waits for her own life to begin as she sees her sister going in and out of hospitals. Lise has made the boldest move of her life, even as her sister spends every day putting herself at risk to improve the lives of others. Diana is an ocean apart from her sister, but worries that her marriage is the relationship separated by the most distance. Sylvia has lost her twin sister to breast cancer, a disease that runs in the family, and fears that she will die without having ever really lived.
When Diana places an ad in the local newsletter, Cindy, Lise, and Sylvia show up thinking they are joining a book club, but what they discover is something far deeper and more profound than any of them ever imagined.
With wit, charm, and pathos, this mesmerizing tale of sisters, both born and built, enthralls on every page.
Lauren grew up in Monroe, CT, where her father owned a drugstore at which her mother was the pharmacist. She is a graduate of the University of Connecticut at Storrs, where she majored in psychology. She also has what she calls her "half-Masters" in English from Western Connecticut State University (five courses down, another five to go…someday!).
Throughout college, she worked semester breaks as a doughnut salesperson, a job that she swears gave her white lung disease from all the powdered sugar she breathed.
Upon graduation, she began work at the venerable independent spacebookseller, now sadly defunct as such, Klein's of Westport. There, she bought and sold for the better part of 11 years.
In November 1994, Lauren left the bookstore to finally take a chance on herself as a writer. Success did not happen over night. Between 1994 and May 2002 – when Red Dress Ink called with an offer to buy THE THIN PINK LINE – Lauren worked as a book reviewer, a freelance editor and writer, and a window washer, making her arguably the only woman in the world who has ever both hosted a book signing party and washed the windows of the late best-selling novelist Robert Ludlum.
Since Red Dress Ink's call in 2002, Lauren has been kept very busy with writing more novels and checking her Amazon ranking on a daily basis. She still lives in Danbury, with her husband and daughter, where she has lived since 1991.
In addition to writing, Lauren's daughter keeps her busy, accounting for the rest of her time.
Lauren's favorite color is green.
Lauren's favorite non-cat animals are penguins.
Lauren wants you to know that, however you are pronouncing her last name, you are probably pronouncing it wrong.
Four women coming from all different walks of life brought together by an ad at the library for a bookclub. This is a book about friendship and kindness. Many laughs and many tears with these women.
I loved how each chapter started with the name of each "sister" either Cindy, Lise, Diana or Sylvia and listed what book they were each reading.
I was hooked when I started reading it and had a hard time putting it down. I really liked how I felt I was part of the "club" as I was reading it.