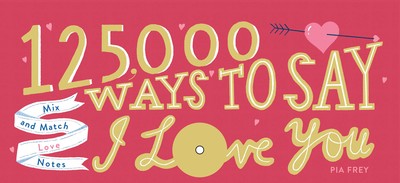 Mad Libs meets Instagram poetry this brilliantly creative flipbook that lets you create 125,000 one-line love poems—some sweet, silly, and painfully honest—with three mix and match panels. 125,000 WAYS TO SAY I LOVE YOU is the perfect way to say what's in your heart, and you'll never run out of ways to say those three little words.
Learn more about
125,000 WAYS TO SAY I LOVE YOU
by watching this
short video
.
This is one of the coolest things I have ever seen. I write notes every week day to put in my kids and husbands lunches. So you know that this is right up my alley. I love telling people how I feel and this is such a new and fun way to do it! This will be a new and exciting way for me to leave a note for my husband in the house. I showed this to him the other day and he loved it! It is one of those things that we can do for each other; from funny, to sexy, to loving these notes will be sure to put a smile on your loved ones face!
A perfect note to leave for your loved one when you are busy reading!!!