Kristy Woodson Harvey is the author of
Dear Carolina
(Berkley/Penguin Random House, 2015)
, Lies and Other Acts of Love
(Berkley/Penguin Random House, 2016) and the Peachtree Bluff Series, beginning with
Slightly South of Simple
(Gallery/Simon & Schuster, 2017).
Dear Carolina
was long-listed for the Pat Conroy Southern Book Prize, has been optioned for film and has appeared on numerous "must-read" lists.
Lies and Other Acts of Love
was a
Romantic Times
top pick, a Southern Booksellers Okra Pick and was chosen to be a part of the 2017 Trio display, an integration of story, art and song, which will spend the year traveling the country.
She blogs with her mom daily on Design Chic, the inaugural member of Traditional Home's design blogger hall of fame, about how creating a beautiful home can be the catalyst for creating a beautiful life and loves connecting with readers at kristywoodsonharvey.com.
Harvey is a Phi Beta Kappa, summa cum laude graduate of the University of North Carolina at Chapel Hill's school of journalism and holds a master's in English from East Carolina University, with a concentration in multicultural and transnational literature. Her writing has appeared in numerous publications and websites, including
Southern Living
,
Domino
, Houzz and
Our State
. She has been seen featured in
Readers' Digest
,
The Huffington Post
,
USA Today's Happy Every After
,
North Carolina Bookwatch
,
PopSugar
,
Glitter Guide
and
The Sits Girls
. She lives in North Carolina with her husband and five-year-old son where she is working on her next novel.
From the next "major voice in Southern fiction" (New York Times
bestselling author Elin Hilderbrand) comes the first in an all-new series
chronicling the journeys of three sisters and their mother—and a secret
from their past that has the potential to tear them apart and reshape
their very definition of what it means to be a family.
Caroline Murphy swore she'd never set foot back in the small Southern town
of Peachtree Bluff; she was a New York girl born and bred and the worst
day of her life was when, in the wake of her father's death, her mother
selfishly forced her to move—during her senior year of high school, no
less—back to that hick-infested rat trap where she'd spent her childhood
summers. But now that her marriage to a New York high society heir has
fallen apart in a very public, very embarrassing fashion, a pregnant
Caroline decides to escape the gossipmongers with her nine-year-old
daughter and head home to her mother, Ansley.
Ansley has always put her three daughters first, especially when she found
out that her late husband, despite what he had always promised, left her
with next to nothing. Now the proud owner of a charming waterfront design
business and finally standing on her own two feet, Ansley welcomes
Caroline and her brood back with open arms. But when her second daughter
Sloane, whose military husband is overseas, and youngest daughter and
successful actress Emerson join the fray, Ansley begins to feel like the
piece of herself she had finally found might be slipping from her grasp.
Even more discomfiting, when someone from her past reappears in Ansley's
life, the secret she's harbored from her daughters their entire lives
might finally be forced into the open.
Exploring the powerful bonds between sisters and mothers and daughters,
this engaging novel is filled with Southern charm, emotional drama, and
Harvey keeps getting better with every book that she writes. I have adored each and every one of her stories to date and Slightly South of Simple blew me away. I am so excited that Slightly South of Simple is part of a new series. There is something very comforting about the settings Harvey chooses and worlds that Harvey creates because she does so with heart. I love the characters and found myself really wrapped up in the story because it was multi-layered. There was depth of story and richness in dialogue that helped flesh out the characters and builds upon the mounting secrets and drama. This book is about moms, dau
ghters, sisters and families in various ways. I just adored this book and I cannot wait to see where this new series takes us.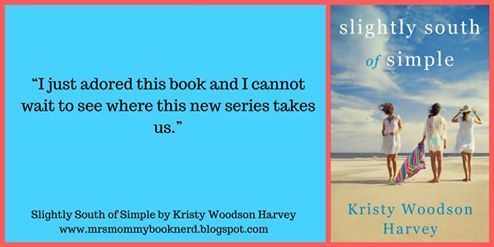 BUY THE BOOK: