#########################################################

Whispering Wings
by
Jayne Peters
Whispering Wings is Jayne Peters' second children's book. It is a gently told story, reminding us that we all need to practice our virtues, especially when faced with everyday challenges. With a pocket full of caterpillars, join Nick on his journey to spread the virtues to his family members, and most importantly, himself!
MRS MOMMY BOOKNERD'S REVIEW: I am such a fan of Peters' books. The story is not only a mind expanding, wonderful adventure, but the pictures are also gorgeously illustrated. My kids love getting lost in the worlds that Peters creates. 5 stars
#########################################################

Ziggersnout
by
Dale Rensing
A picture book for early readers (ages 5-8). A story of a little boy learning to skate who, with the help of his friends, finds the drive within himself to persevere even when things get tough
.
MRS MOMMY BOOKNERD'S REVIEW: My son is a huge hockey fan and ate this book up. He learned the valuable lesson that hard work and perseverance pays off in the end. I think you have a winning book when you blend a great story with great characters and valuable lessons. 4 stars


#########################################################
The Poodle Tales: Book Nine: The Modeling Poo (The Poodle Tales #9)
This gorgeous silver bowed poodle who loves to play dress up is soon to become..."The Modeling Poo!"
MRS MOMMY BOOKNERD'S REVIEW: This a cute story about setting out and reaching goals, but also about being generous and giving back. 3.5 stars
#########################################################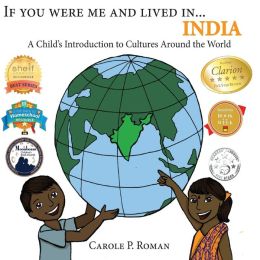 Overview
Let's travel to India! Land of bright colors and delicious spices, If You Were Me and Lived in...India, takes young readers on a road trip to learn about this interesting place.
Children will learn how to say mommy and daddy, what type of currency is used, games that youngsters play and a lot of interesting facts about the beautiful land of India.
If You Were Me and Lived in...India adds this ethnically diverse country to the growing, award winning series that is out to cover the entire globe, teaching children about culture and customs all over the world.
The ForeWord Review, Clarion Review gave "If You Were Me and Lived in...Kenya" a coveted five star ranking. The first book in the series, If You Were Me and Lived in...Mexico" received the Pinnacle Award for Best in Children's Nonfiction 2012.
MRS MOMMY BOOKNERD'S REVIEW:
What a great all encompassing book for kids on India. My son is constantly asking me about places all over the world, so this book was right up his alley. It has great info in a way that is easy for kids to understand. I can't wait to share the other books in the series with my sons. 4 stars
#########################################################
Leo is bored, wishing there was more magic in life. He gets a big surprise when a mysterious wizard appears and sweeps him away on an incredible whirlwind tour of the animal kingdom! Join the fun as they witness some amazing animal powers at work, from chameleon camouflage to sticky gecko feet, and visit beautiful habitats from the frozen Antarctic to the mighty mountains of the Himalayas.After this exciting adventure you'll have to agree with the wizard that life has a special magic all of its own!
MRS MOMMY BOOKNERD'S REVIEW:
WOW, this story is WONDERFUL! I adored the rhyming verse and the beautiful illustrations. This is such a magical adventure, with factual and fun animal facts. My kids went bananas for this book and it is one that we have read over and over and over again! This is a book all kids need for their home library. 5 stars!
#########################################################

Overview
Can paper airplanes carry messages to Heaven? Mac hopes so. And he hopes even more that his dad will send a reply in return.
MRS MOMMY BOOKNERD'S REVIEW:
A very heartwarming and touching story about a young boy who lost his father. The moral of the story is that Daddy loves him no matter where he may go. This book would be great to help s child deal with the loss of a parent. 4 stars
#########################################################
Have you ever been told, "Stop horsing around?" Well, with this amazing book about horses, you can horse around all you want! HORSES: Fun Facts and Amazing Photos of Animals in Nature (Amazing Animal Kingdom Series) is an entertaining and enjoyable book for young horse enthusiasts. This science based story is filled with all kinds of information about horses. Step into the past and read about horses in the medieval times. Travel to the farm and see what was expected of horses there. Stop by the tracks and watch the horses in action.
HORSES: Fun Facts and Amazing Photos of Animals in Nature (Amazing Animal Kingdom Series) is a fantastic book for children of any age. It is the ideal book for young readers but also perfect for parents or teachers who read to children. This children's story is not only fun to read, it is also educational. This remarkable book is exclusively structured for young readers. Its small paragraphs and simple sentence structure, makes this children's story a must have for fellow horse lovers. It has easy-to-read words, lower level vocabulary and context clues. HORSES: Fun Facts and Amazing Photos of Animals in Nature (Amazing Animal Kingdom Series) has factual information marketed in an entertaining manner. As your children enjoy the story, they may not even realize that they are learning!
Reading to children can help broaden their vocabulary and comprehension skills. Encourage children to read and be responsible for broadening their minds.
You have seen them in the zoo and at the aquarium but how much do you really know about them? In this kid-friendly report packed with fun facts and humor, you will uncover amazing facts about every ones favorite ocean animal cute, curious, playful, and intelligent dolphin! These marine mammals come in all different shapes and sizes and live all over the world in both saltwater and freshwater habitats!
Learn about the many kinds of dolphins; the way in which dolphins play, hunt, and communicate; the birth and development of a baby dolphin and tons more! Did you know that dolphins are some of the smartest animals in the world? That's right! No wonder they're so fascinating! From the clever games they play to their fascinating method of finding objects in the water, there is no end to the awesome things these sea creatures can do!
Impress your friends, family, and even your teacher with everything you learn about dolphins in this fun-filled report. How high can a dolphin jump? What do you call a baby dolphin? What kinds of food do dolphins enjoy? How can a dolphins whistle help its friends know where it is? Find the answers to these question sand many many more!
MRS MOMMY BOOKNERD'S DOUBLE REVIEW:
I love Emma Child and her books. They are filled with awesome animal facts and colorful, vibrant pictures. All her books are 5 stars!
#########################################################
BUY THE BOOKS!!!!