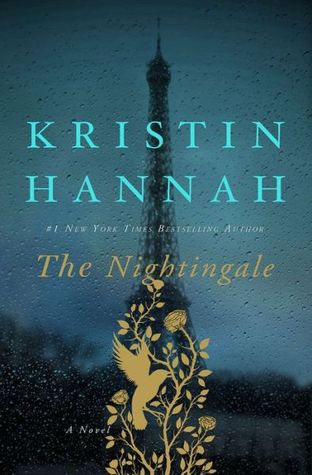 In love we find out who we want to be.
In war we find out who we are.

FRANCE, 1939

In the quiet village of Carriveau, Vianne Mauriac says goodbye to her husband, Antoine, as he heads for the Front. She doesn't believe that the Nazis will invade France...but invade they do, in droves of marching soldiers, in caravans of trucks and tanks, in planes that fill the skies and drop bombs upon the innocent. When France is overrun, Vianne is forced to take an enemy into her house, and suddenly her every move is watched; her life and her child's life is at constant risk. Without food or money or hope, as danger escalates around her, she must make one terrible choice after another.

Vianne's sister, Isabelle, is a rebellious eighteen-year-old girl, searching for purpose with all the reckless passion of youth. While thousands of Parisians march into the unknown terrors of war, she meets the compelling and mysterious Gäetan, a partisan who believes the French can fight the Nazis from within France, and she falls in love as only the young can...completely. When he betrays her, Isabelle races headlong into danger and joins the Resistance, never looking back or giving a thought to the real--and deadly--consequences.

With courage, grace and powerful insight, bestselling author Kristin Hannah takes her talented pen to the epic panorama of WWII and illuminates an intimate part of history seldom seen: the women's war. The Nightingale tells the stories of two sisters, separated by years and experience, by ideals, passion and circumstance, each embarking on her own dangerous path toward survival, love, and freedom in German-occupied, war-torn France--a heartbreakingly beautiful novel that celebrates the resilience of the human spirit and the durability of women. It is a novel for everyone, a novel for a lifetime.
My Review:
Amazing, truthful and heartbreaking...this book is hard to put down! You will cry, feel the story in your soul and be kept awake by the story. It is so moving and emotionally draining, but in the best possible way. Hannah has a way to draw in the reader with her beautifully written story woven with rich historic relevance. Another hit and 5 star read.
Sarah Jessica Parker has said about this book: "What a great story!"
From the outside looking in, Lily Lockwood--popular star of the hit TV show "St. Joes"--seems to have it all. She has recently been nominated for an Emmy and her star is on the rise. Lily shares her beachfront Malibu home with her gorgeous actor-boyfriend Jamie. Perfect? Not so fast. Within a microcosmically short period of time, the whole thing falls apart when she learns that this boyfriend, on location shooting a Western, is riding horses all day and his curvy co-star all night. Then, before Lily can catch her breath, she gets words that her beloved mother, bestselling author Daisy Lockwood, has had a near-fatal car crash and is in intensive care in New York.
Lily flies from Los Angeles to be with Daisy. Once there, she must make critical life-and-death decisions. While sorting through her mother's papers, Lily makes a shocking discovery about her mother that threatens to shake Lily's very foundation. This sets Lily on a journey as she seeks to unlock the riddle of her mother's past.
My Review:
Sometimes I wish a book I enjoyed could instantly be made into a movie because I want to see it play out on the big screen. Seeds of a Daisy is one of those reads. There is so much that the reader can relate to in this story....love, loss, courage, heartbreak... An amazing read and one I wish could be up on the big screen in the future!!! This would be a great book club pick! 4.5 stars
The co-host of ESPN's Mike and Mike follows up his New York Times bestseller All You Could Ask For with this poignant story of one man's search to understand himself, his marriage, and his father

"Mike is as clever, astute, and perceptive as he is brilliant. . . . I can't wait to see what he does next."—Jane Green, author of Tempting Fate

Jonathan Sweetwater has been blessed with money, a fulfilling career, great kids and Claire, his smart, gorgeous, sophisticated wife. But there is one thing Jonathan never had: a relationship with his father.

Percival Sweetwater III has been absent from his son's life since Jonathan was nine years old. A five-term U.S. senator, now dead, Percy was beloved by presidents, his constituents, and women alike, especially the five women who married him after Jonathan's mother.

Jonathan hasn't thought about Percy or the hole he left in his life for years. Dedicated to Claire and his family, he's nothing like his serial monogamist father. But then Jonathan discovers evidence that everything in his marriage may not be as perfect as he thought. Hurt and uncertain what to do, he knows that the only way to move forward is to go back.

On this quest for understanding—about himself, about manhood, about marriage—Jonathan decides to track down his father's five ex-wives. His journey will take him from cosmopolitan cities to the mile-high mountains to a tropical island—and ultimately back to confront the one thing Jonathan has that his father never did: home.
My Review:
Interesting and although a bit predictable this was a book I enjoyed reading. The writing style is one that I enjoy to read...comfortable and likable. 3 stars
Think marriage means happily ever after? Think again…
Selina and Lottie are complete opposites. Where Selina is poised but prudish, Lottie is quirky and emotional. Selina is the dutiful mother of three children and able manager of their stylish suburban home. Lottie lives with her eccentric teenage daughter in a small city apartment fit to bursting with color and happy chaos. But these women also have one shocking similarity: they're married to the same man…and they've just found out he's dead.
Selina has been married to Simon Busfield for twenty-eight years, Lottie for seventeen. Neither knew a thing about the other until the day of Simon's funeral, where the scandalous truth is revealed in front of everyone they know. Another wife, another family… And they've only just scratched the surface of Simon's incredible betrayal.
With dark humor and razor-sharp wit, Cohen expertly unravels a story of deception and betrayal, where two very different families will discover they are entwined in ways that will change them all forever.
My Review:
An interesting and twisty read that is both thought provoking and original. Told from alternating points of view you are given a deeper sense of the story. 3.5 stars
A hilarious guide to not having it all, with vague instructions on what to do when you've dropped all the balls you ought to have kept in the air, perfect for fans of Caitlin Moran
Does an exciting weekend for you mean scrubbing all the grouting in your bathroom with a toothbrush? Do you ponder marrying the Albanian builder who has just fitted alcove shelving because he's brought you more happiness in three days than your useless ex-boyfriend brought you in three years? Do you write to-do lists that need paginating, and include items such as "re-mortgage house, get pregnant, climb Kilimanjaro"? Welcome to Melissa Kite's life. If you answered yes to two or more of these questions, clearly you too are a desperate single woman trying to survive in the modern world. If not, congratulations: you will have a good laugh reading this book.
When Melissa first started writing a column in the Spectator magazine, she had no idea there was anyone else out there remotely like her. Nearly every other woman she knew seemed to be heroically juggling work and family life. By contrast, Melissa felt as though, in the fluttering mass of yellow Post-it notes on her fridge there was one that read, "Don't forget to get married and have kids," which had got covered in shopping lists, dry-cleaner receipts and waste collection schedules. In this hilarious, poignant memoir, Melissa details her adventures in not having it all, from her epic struggle to free a chubby angelfish which wedged itself in a plastic log, to her escape from a French holiday with her boyfriend gone terribly wrong.
My Review:
Funny, honest and harsh at times, this book is amazingly well written and a hoot to read. I find it be be comforting to hear the truth, with grace (at times, not), humor and a sense of self. Fun stuff! 4 stars