Holiday/Season Themed Books:
*******************************************************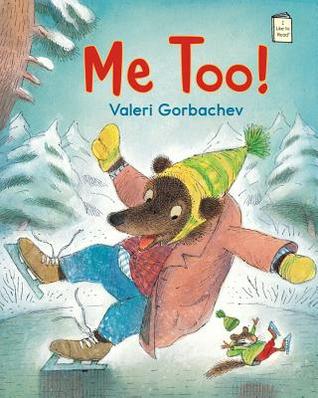 Chipmunk and Bear have a lot in common, despite their difference in size. And Chipmunk is determined to keep up with his big friend. Warmth and humor fill the snowy day adventures of two friends who, despite their physical differences, share work and play and true companionship.
My review:
Such a cute early reader. I loved the colorful and vibrant pictures. I cannot wait to use this book in my Art Through Stories class. It is just the right length to keep my young students eengagedand I love the pictures. 5 stars
*******************************************************
The Christmas Cats Encounter Bats is a Seuss-ical tale for young children which builds upon the morals of the first two Christmas Cats books (The Christmas Cats in Silly Hats and The Christmas Cats Chase Christmas Rats). Book One (The Christmas Cats in Silly Hats) stressed that twin sisters---or anyone--- should learn to play together nicely. When one twin bit the other on the nose, it was a sign that a story about playing together nicely would be useful. Learning to cooperate is important for everyone. Book Two, The Christmas Cats Chase Christmas Rats, urges acceptance and advises against prejudice. "It's best to be open and trusting and kind, and always to keep an open mind." Learn to accept others in a non-judgmental, open-minded fashion. Book Three, The Christmas Cats Encounter Bats urges everyone to honor life in all its forms. Love and accept all God's creatures. Some animals---(puppies and kitties come to mind)--- are popular with nearly everyone. Others (spiders, lizards, bats, etc.) may not seem as worthy, but all are small cogs in the universe. Bats serve a very useful purposes in God's grand scheme. All life should be valued. The bats of story three are just as deserving of respect and have as much of a right to life as any other creature on the planet. Check Connie Corcoran Wilson on Amazon for her projects for adult readers, and her dedicated website, www.ConnieCWilson.com. Follow Connie on Twitter at Connie Wilson Author. "Like" her Facebook and Pinterest pages at Connie Corcoran Wilson. Sign up for her blog (www.WeeklyWilson.com) where you can learn of new publications. You can contact Connie directly at EINNOC10@Aol.com.

My review:
My sons and I really care about all God's creatures so this silly story about the cats encountering bats (which are one of our favorite wild creatures) was quite the treat. The rhyming story is fun to read and it is a cute story about being kind to all living things...even the ones that may scare us. 4 stars
*******************************************************
The joys of giving and receiving are celebrated in this easy-to-read story about a cat who seeks shelter on a snowy day! Shivering, Cat jumps into the basement window of a small apartment building. As Cat makes his way up to a top-floor garret, Dog gives Cat a book, Rabbit gives him a plant, Bird gives him a painting, and Elephant gives him a hot drink. Cat is happy! Everyone is happy!
My review:
I also love this early reader book. The pictures are such fun to look at with all the details. It is a story about giving and making friends. Anther book I cannot wait to adapt into a classroom lesson. 5 stars
*******************************************************
After trading mean jokes with Red, Bunnys act of forgiveness and compassion shows the importance of being able to put oneself in the shoes of another.
My review:
Anyone who works with kids know that they can be sneaky and unkind at times. This book is about how friends are not kind to each other and how they sometimes blow it off saying that it was a joke. This is a great book to read and them talk about what is really a joke and what is unkind and not a joke. A great example of a book that helps to create dialogue with young ones and things that are right and things that are not. 3 stars
*******************************************************
Merry animals celebrate the twelve days of Christmas in this version of the traditional folk song.
My review:
I am in love with this books that switches up the lyrics to The Twelves Day of Christmas and creates yet another fun and catchy lyrics. With adorable pictures and the cute song this is bound to be a hit for Christmas loving kids. 4 stars
*******************************************************
No sweet treat today. Those yummy-looking blackberries are out of reach. But Turkey Tot has found some string. He asks his friends to help him find a balloon so they can float to the berries, but they find his idea preposterous. "He's been different since the day he hatched," says Hen. Turkey Tot doesn't find his balloon... But two cans, a hammer, and a nail, and voila! Stilts help Turkey Tot reach the berries.
My review:
A retelling with a twist of The Little Red Hen bur this time with
Chick, Pig and Hen. Instead of preparing and baking bread Turkey Tot wants blackberries in the tree high above their head. With the same sort of twist on the story as The Little REd Hen...see how they all come together to solve the problem. 4 stars
*******************************************************
Big Green Monster has no interest in being friends with Little Puppy. But when Little Puppy needs help, Big Green Monster immediately comes to the rescueand finds that there might just be a place for this tiny dog in his giant heart.
My review:
I LOVE THIS BOOK. It is about an adorable little puppy that wins the heart of a big green monster by being an irresistibly silly and clueless pile of cute! I have read this one over and over and over again and I smile EVERY TIME! 5 stars
*******************************************************
If you give in to temptation and give a bored little mouse your iPhone,
even for ten minutes,
he's probably going to beam to some faraway place beyond time, space, and the sound of your pleading voice. And if he's that far gone, he won't have any idea what's going on around him, and he might end up missing out on all the
real
fun.
From the
New York Times-
bestselling author of
Goodnight iPad
comes a delightful new commentary on the perils of our tech-obsessed lives and a fully charged romp for readers of all ages.
My review:
I could not love this book more. It is a great story about how technology can take over and put children in a trance where they miss out on so much around them. I read this book to my boys and they also loved it. What a great spin on our new world of technology. 5 stars
*******************************************************
It can be surprising which objects float and which don't. An apple floats, but a ball of aluminum foil does not. But if that same ball of foil is shaped into a boat, it floats! Why? And how is it possible that a huge ship made of steel floats? Answering these questions about density and flotation is David A. Adler's clear, concise text, paired with Anna Raff's delightful illustrations. Activities that demonstrate the properties of flotation are included.
My review:
My son loves science and this book was perfect for him. Here is what he had to say about it: It is about things that float and things that don;t. If you like Science you will really love this book. It teaches you the science behind the ability of things to float or not. So cool, right? 4.5 stars
*******************************************************
Olga needs to make a little rain, but the hen wont let Olga rain on the chicks; and Mrs. Emilia wont let Olga rain on the laundry. Luckily Olga finds the place where many little clouds can make rain together.
My review:
Originally
released in Italy Olga the Cloud is about how this lonely little cloud must find a place to make run after being rushed away by many other people and animals. Then Olga finally find a place to fit in and make rain. 3 stars
*******************************************************
In the third endearing Bear and Mole adventure, Bear helps his friend learn to ride a bike without training wheels. But even with Bear's support, Mole grows frustrated and wants to give up. Gentle Bear tells Mole, "I think you can," and Mole summons all his strength to make his first bike ride a success. Off he goes! This story is perfect for reading aloud.
My review:
What an adorable story about never giving up, friendship and the power of believing in yourself. I adored everything about this book. It was such a delight that both the kids and I loved! What a hit! I cannot wait to read more with bear and mole! 5 stars.
*******************************************************
A busy day at the zoo leaves Pop and Sam tuckered out on a bench. As they nap through closing time, the animals come out to play. When Pop's cell phone captures Monkey's interest, he snaps a few pictures with it before dropping it on Giraffe's head. So begins a hilarious chain of events that gets the whole zoo howling, awakens Pop and Sam, and alerts a guard. As Pop and Sam are escorted out, they watch in wonder as Parrot drops the phone into Sam's hands. But the real surprise comes when the phone's photos reveal the monkey business that was afoot while they slept!
My review:
An outrageous story about a trip at the zoo that went wrong, but with silly consequences. 2.5 stars
*******************************************************
Characteristics of the five vertebrate classesmammal, bird, fish, reptile, and amphibian are described along with illustrations reminiscent of woodcuts. A chart, an afterword about invertebrates, and a bibliography are included.
My review:
A cool book that has
rhyming verse that tells all about vertebrates and the different groups of them. It is a great book for kids that want to learn more about this subject. The pictures are cool and my son liked this book because it was informative and fun. 3
stars
*******************************************************
"Bye, Ben," says his sister as Ben's red balloon takes him up, up, up . . . A house has a face, hills change their shapes, and a rainbow reverses its colors as Ben's balloon floats him all the way to the moon. The day is full of happy surprises! All objects have life and are subject to change, underscoring Bens sense of joy and wonder.
My review:
Every kid loves balloons and this book is an adorable tale of a journey Ben goes on while hanging onto the string of his bed balloon as he goes up, up, up...then he lands on the moon and finds a way back down. I plan to create a lesson around this book too! 4.5 stars
*******************************************************
Pete the pig does not want to eat his slop, but cannot go out to play with his brother and sisters until he does.
My review:
A story about a picky eater and the struggle that happens between mom and child. Will Pete eat? Read and find out.... 2.5 stars
*******************************************************
This picture book not only teaches readers about the variety of work animals perform but also depicts the give-and-take dynamic of human/animal relationships.
My review:
A great easy/early reader for kids that love animals and want to see all the ways that they help humans. It also illustrates how we rely on the animals in a variety of areas and how we need to be kind to them, always. 3 stars
*******************************************************
Six-year-old Byron Woodward is a werewolf who can't howl. Determined not to embarrass himself after being chosen to lead a full-moon ceremony, he embarks on a mission to learn how to howl. He learns a lot about howling during his journey, but more importantly, he learns a valuable lesson about believing in himself.
My review:
This is a story about a boy who tries to learn to howl and cannot...so he seeks advice from those that he thinks can help. The answer to his problems comes in an unexpected way. 3 stars
*******************************************************
In Halibut Bay, where hats are rare, Eddie and his dog Phil must give up their plans for fishing with Eddie's father to help ailing Aunt Sue with her chores, which include throwing a pirate birthday party for Sue's friend, Captain Rugbeard.
My review:
A crazy and wild story that bounces from one problem to other with the lead of BUT...absurd and silly...
3 stars
*******************************************************
Majestic paintings by a Caldecott Honor-winning artist illustrate a guessing game that fosters an appreciation of both art and science, while introducing the five major biomesgrassland, desert, forest, tundra, and water.
My review:
A cute early reading questing game of what animal is in the picture and then where is lives...informative and fun with beautiful pictures. 4 stars
*******************************************************
RING! A bell rings in the fire station. Fireman Fred and the other firefighters race across town to save the day. After putting out a fire and rescuing a cat from a tree, Fred meets a stray dog. It looks as if Fred has found himself a pet! Fire trucks, bravery, and pets: Lynn Rowe Reed's easy-to-read picture book has something for everyone and features her trademark bold and bright illustrations. An I Like to Read(R) book. Guided Reading Level D.
My review:
A cute story about Fred the Fireman and a call to service that ends with a fun and expected surprise. Cute book for firemen loving kids....3 stars
*******************************************************
Captain No Beard and his crew of loyal pirates heave anchor for another adventure, this time in the icy waters of the Arctic. Captain No Beard's steering a course due north, sailing by the light of the North Star. Everyone on the crew wonders what the captain's up to, especially as he gets embarrassed when they ask. When the captain finally admits his plan, the crew discovers he plans to steal the aurora borealis, the beautiful northern lights that brighten the arctic sky. They're all shocked. They may be pirates, but even they know stealing is bad. Besides, how can anyone steal the lights from the sky? A charming, engaging tale about doing what's right, Captain No Beard and the Aurora Borealis is the latest installment in Carole P. Roman's award-winning pirate series. The first book, Captain No Beard-an Imaginary Tale of a Pirate's Life, received the Kirkus Reviews Best of 2012 award and the Star of Remarkable Achievement. The series presents real-life problems in an imaginary setting and encourages discussion with both parents and educators
My review:
4.5 stars SERIES REVIEW: An awesome adventure books that my kids and I have read over and over again! Great stories, amazing pictures and a great cast of characters! The books are more than just books...they are hours of fun. After we read one of the books I created a treasure hunt for the kids, with a map and real treasure! Such fun when books becomes more than just books and become bonding moments and amazing memories! 4.5 stars
*******************************************************
SERIES REVIEW: What great all encompassing books for kids on countries all over the world. My son is constantly asking me about places all over the world, so these books are right up his alley. It presents great information in a way that is easy for kids to understand. It is like taking a tour of each of the counties within the pages of a book! 4 stars
Add caption
*******************************************************
Featuring the lovable, inquisitive, life-of-the-party Charlie Girl, the Standard Poodle and true cosmopolitan canine! In this introductory book, you'll read the story of her love for New York and everyone around her, from her owners to the doormen and the people she meets along the way. Charlie Girl loves playing in Central Park, riding in taxis, shopping, and even visiting art galleries! Sometimes she gets into mischief, but at the end of the day, she is still our favorite poodle.
My review:
Meet Charlie, the lovable and sometime mischievous standard poodle who loves New York. In this book you get to know Charlie and the other people in her life. Such a cute and fun book series. It is one my boys and I loved. 4 stars
In this second installment featuring Charlie Girl, a standard poodle and true cosmopolitan canine, a new baby is on the way. Charlie Girl's world as she knows it is turned upside down. Everyone in the neighborhood leans over the baby carriage to admire little Ava while Charlie Girl, left on the side, wonders to herself what happened to her life. Yet all she wants to do is protect this new baby, sit by the crib, and make sure she's okay. How can she be jealous and at the same time so protective of baby Ava? It's instinct! The feelings shared in this tale apply to humans and dog relationships in families with new children or puppies. Over time Charlie Girl and her baby sister find they have much in common as they end up having the time of their lives together, becoming two peas in a pod and the loves of each other's lives. A true "tail" of family love, it teaches young readers how to deal with jealousy of the attention lavished on their recently born siblings and how change can often turn out to be for the better.
My review:
Such a cute book about family, love and pets. It is sure to please the fans of the first Charlie Girl book. This book addresses a problem that many kids suffer from...jealously and love, the mix of both of those emotions. This story is original and heartwarming. Such wonderful pictures and I love the size of the books. I really enjoy these books.
4 stars
*******************************************************
Chapter Books: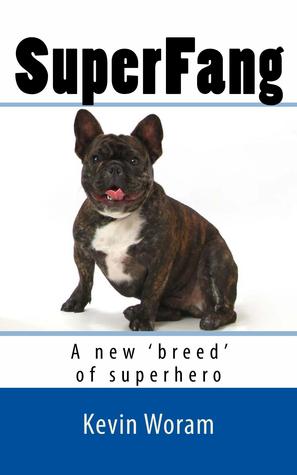 What do you get when you cross a hungry French Bulldog and a golden mushroom? You'll just have to read the story to find out!
Enjoy the thrilling tale of SuperFang, a new 'breed' of superhero.
My review:
We love dogs and we love superheroes, put them together and you have a great book! My 6 and 7 year old really enjoyed this book...they were engaged, entertained and laughed and had fun reading this book. That is pretty awesome if you ask me...4 stars
*******************************************************
Come Along With Me will transport eight-to twelve-year old children, their parents, and their grandparents to another world when they read Come Along With Me, an adventure about friendship and caring, the unfortunate consequences of jealousy, and the power of hope.
Meet Gracie, a ditzy dwarf kangaroo from the Thirty-sixth Universe--a creature who lives in a perfect realm. Because she is bored, Gracie longs for an adventure to St. Petersburg, Russia, a place she imagines is filled with beauty and enchantment. Much to the tiny 'roo's surprise, her ability to transport herself to the land of the czars has failed. She ends up at a dairy farm in St. Clair, Pennsylvania, where she saves the life of Gibson, an abandoned Maine coon cat.
The unlikely pair become fast friends. While Gracie tries to find her way back home, Gibson carves a life for himself on a farm with his newly adopted mistress, the farmer's young daughter. There's one hitch: The overworked farmer demands that Gibson earn his keep. Gibson's task is thwarted somewhat when he experiences strange visions. But are these visions the result of a thrashing he received from the farmer's two dogs? Or, maybe Gibson sees parallel universes?
As outsiders the little kangaroo and the cat from the city negotiate the perils of farm life. They meet two malicious rats who hate anyone who is happy. The two devoted friends must contend with stampeding cows and a barnyard of critters that have little use for newcomers.
Will Gibson keep his sanity and become the little girl's pet? Will Gracie ever see the splendor of the Russian Versailles? Will the farmer survive the evil machinations of the rats, Bratwold and Eastman? Drift back to the days of Barbie dolls, hula hoops, and Sputnik to find out.
My review:
An interesting and fun tale that will keep a young reader entertained. My son was having a great adventure while reading. He said he thought it was fun and different than other books. 3.5 stars
*******************************************************
The Painted Pilgrim is an adventure story about a large, shocking pink dog who shows up at the door of the Give Me Shelter dog shelter. His name is Pellegrino. Zuki is the director of Give Me Shelter and chooses the name because Pellegrino means "a traveler from afar." The story revolves around Pellegrino and how he makes friends with the other dogs at the shelter. Zuki is very protective of him because of his unusual fur. A cast of characters tries to adopt Pellegrino and some of them have bad intentions. Fortunately, with Zuki s vigilance, their plans are foiled. While he is at the shelter, the other dogs befriend Pellegrino and protect him from a kidnapping plot. In the end, Pellegrino finds the perfect home and his two sidekicks surprisingly end up living nearby."
My review:
A story about friendship and acceptance that any animal lover will adore. It has something for everyone...great characters and a fun and twisty plot. 3 stars
*******************************************************
A magical story featuring two young witches who must brave the dangers of the city to save their valley and one of the last covens on earth. Read an excerpt at
http://www.holidayhouse.com/excerpts/...
My review:
This book is for new readers starting chapter books that enjoy magic and nature. This book is about bravery, friendship, magic and being true to yourself. i enjoyed it so very much 3.5 stars
*******************************************************